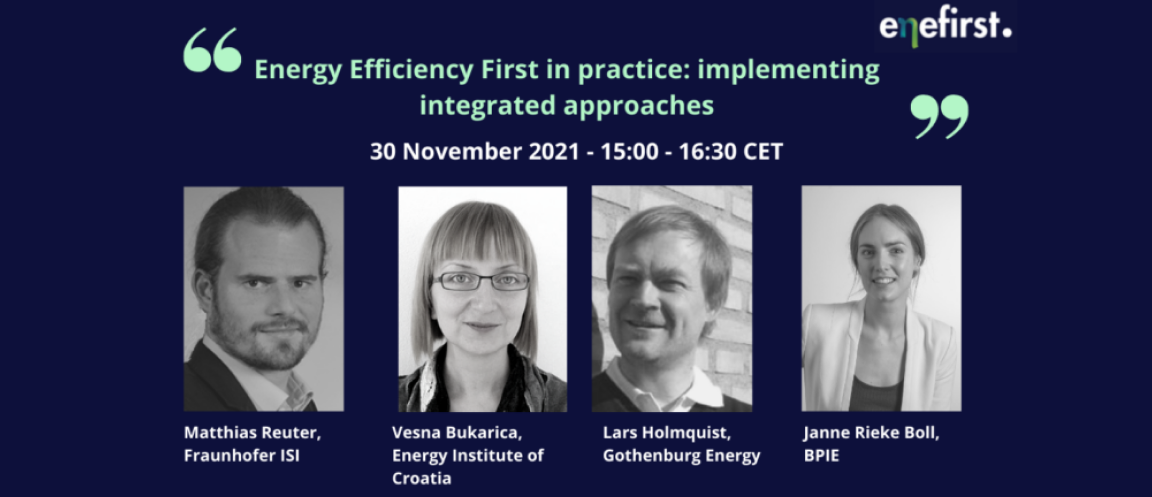 18 Nov

WEBINAR "ENERGY EFFICIENCY FIRST IN PRACTICE: IMPLEMENTING INTEGRATED APPROACHES"

On 28 September 2021, the European Commission published a new recommendation and guidelines entitled "Energy Efficiency First: from principles to practice". This webinar will complement these new resources with two examples from Croatia and Sweden, discussing how implementing Energy Efficiency First (EE1st, or similar concepts) is about adopting more integrated approaches, respectively for investment decisions and for local energy planning.

This webinar will also present the latest outputs from the ENEFIRST project that provides implementation maps and policy guidelines to support the design and implementation of integrated approaches for EE1st.

Last but not least, an overview of how Member States are implementing EE1st will be presented from the brand new EE1st facility of the ODYSSEE-MURE project.

Ahead of this webinar, you can already have a look at examples from Ireland and UK presented at the first ENEFIRST webinar, and from France and the US at the second ENEFIRST webinar.

Registration is open here.

Who should attend?

Policymakers, experts, engineers, researchers and consultants, development managers and sustainability professionals who want to know more about the EE1st principle, why and how it can be implemented.

Why attend?

You will gain insights into the application of the EE1st principle through practical examples, in particular:

What policy approaches can be used to implement EE1st?

Why and how to adopt integrated approaches in line with the EE1st principle?

What can the EE1st principle change in the design and implementation of investment schemes?

What can the EE1st principle change in energy planning?

 Agenda:

15:00 Opportunities for the implementation of EE1st in practice: Integrated policy approaches in energy planning and investment schemes for buildings  – Janne Rieke Boll, BPIE

15:20 Case study 1:  The national renovation programme in Croatia: reducing the heat demand before replacing the heating system – Vesna Bukarica, EIHP (Croatian Energy Institute)

15:40 Case study 2: The Swedish experience with local energy planning: implementing the energy hierarchy in Gothenburg – Lars Holmquist, Göteborg Energi

16:00 The new ODYSSEE indicator to assess the implementation of EE1st: overview for 14 countries – Matthias Reuter, Fraunhofer ISI

16:20 Open discussion about the challenges in implementing EE1st

16:30 End

 

Speakers:

Janne Rieke Boll

Janne Rieke Boll is a Project Manager in the BPIE Berlin office where she manages research projects on the decarbonisation of the buildings sector. Her work focuses on researching the multiple impacts of building policies, analysing the regulatory framework of energy efficiency in the EU and Germany, and managing diverse stakeholder relations. Janne holds a MSc in Environmental and Resource Management from the University of Southern Denmark and Aalborg University and a German/Danish bachelor's degree in economics and Business Administration.

Vesna Bukarica

Vesna Bukarica, Ph.D. works as a Head of Department for Energy Efficiency at the Energy Institute Hrvoje Požar. She manages technical and financial analyses of different types of energy efficiency projects and consults policy makers in developing and evaluating different policy options and instruments. During her carrier, she has consulted clients ranging from ministries, governmental institutions and agencies, international development organisations, international and commercial financial institutions and funds. Her work also included project management and coordination, technical assistance in countries of Southeast Europe, lecturing and preparation of materials for seminars and workshops for educational purposes; establishing system for Measurement and Verification in Western Balkans countries and designing M&V Platform and drafting of Laws on Renewable Energy Sources and Energy Efficiency.

She holds a Ph.D. in Electrical Engineering from University of Zagreb, Faculty of Electrical Engineering and Computing and a diploma in management from the same institution.

Matthias Reuter

Matthias Reuter studied industrial engineering at the University of Flensburg specialising in Energy and Environmental Management with a semester abroad at the University of Southern Denmark in Odense. In 2011 he completed a diploma thesis about index decomposition analysis at the Fraunhofer Institute for System and Innovation Research (ISI) in Karlsruhe. In 2021, he received his doctorate as an external doctoral candidate at the University of Geneva; the title of his thesis is "Enhanced Meso-Indicators for the Evaluation of Energy Policies and Targets". His main fields of study include the evaluation of energy efficiency policies and measures, monitoring of the achievement of energy efficiency targets, the assessment of multiple benefits of energy efficiency and energy efficiency indicators. Since March 2012 he is a researcher at the Competence Center Energy Policy and Energy Markets.